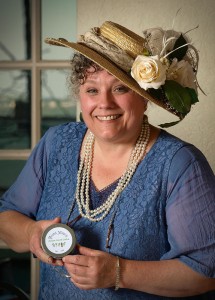 Shortly after my beloved husband's death, a dear friend thought of getting together some Christian bloggers to blog about my dire financial situation and tie it in with a review and giveaway of my handmade soaps.  Her idea was twofold, to help me by spreading the message of my plight *far & wide*and to promote my business so I can help to provide for us.
The *Big Blog Bash* went live yesterday.  Some of these dear ladies have body care product businesses of their own and yet are promoting mine! Only in God's economy can that make sense.
The first day I had 20 orders for soap! By the end of today I had sold out of one scent completely and have sold almost half of what I initially listed for sale.
Guess that means it's time to make more soap!  ;-)
Blessings, Aunt Mae
If you are interested in reading more about my situation and/or want to enter the giveaway you can find it at any of the blogs listed below.
A big THANK YOU to all the bloggers participating:
Ann @ DuctTapeandDenim.com
Anne @ Authentic Simplicity
Tara @ Everyday Ramblings of My Life
Jill @ Jill's Home Remedies
Sara Elizabeth @ A Mama's Story
Gail @ The Imperfect Housewife
Renee @ I Am The Clay
Del @ Devote & Seek
Jill @ Blessed Beyond a Doubt
Rebecca @ Rebecca's Ramblings
Hilary @ Accidentally Green
Marci @ Amazing Graze Farm
Susan @ Learning and Yearning
Erin @ The Humbled Homemaker
Justyn @ Creative Christian Mama
Chelsea Rebecca @ For Unmarried Christian Women
Chelsea Rebecca @ Hearts for Home
Paula @ Whole Intentions
Amy  @ A Heart Surrendered Blog
Bambi @ In the Nursery of the Nation
Dana @ Clan Chris Dean
Kristen @ Smithspirations
Caroline @ The Modest Mom Blog
Alicia @ Walking In Faith
Stephani @ The Cheapskate Cook
Amber @ Homemaker by Choice
Marci @ Thankful Homemaker
Katie Sullivan @ Brighton Park Blog
Anjanette @ Raising the Barrs
Pam @ Mom Does Reviews
Kristy @ Little Natural Cottage
Stacy @ Something Whimsical
Natalie @ Visionary Womanhood
Paula @ Beautiful Life of Joy
Rachel @ Of Love and Beauty
Reagan @ The Arsenal
Kelly @ Generation Cedar
Kelly @ Practical Savings
Stacy Karen @ A Delightful Home
Kristen @ Five in Tow
Diana @ A Little Bit of Spain
Elizabeth @ Yes They Are All Ours
Jacque @ Deep Roots at Home
Karrilee @ Abiding Love, Abounding Grace
Karrilee@ Blessed Memories Scrapbooks by Karrilee
Shawnee  @ The Apronista
Adrienne @ Whole New Mom
Janine @ True Aim Education
Kathryn @ Singing Through the Rain
Alicia @ Fun Reviews and Giveaways
Deborah @ A Delightful Glow
Stephanie @ The King's Bookworm
Christy @ The Simple Homemaker
June @ A Wise Woman Builds Her Home
Shadedlily @ With Them
Joy @ Artful Homemaking