About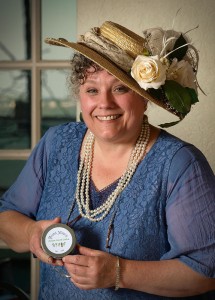 Honey From Flinty Rocks is the journey of one woman who is a first generation Christian, recovering feminist, the help-meet to "The Patriarch",  home schooling (home-discipleship) mother to one "Arrow" & 4 adult children (Floppsy, Mopsy, Peter & Cottontail); who loves to cook, bake, read, sew, crochet, make soap, take pictures, scrapbook,  paint & draw, write, play the piano, listen to classical music (mostly classical & baroque era) and spend time with my family.
I am interested also in politics, history, nature, preparedness,  herbs, essential oils & homeopathic medicine.
I am a self-diagnosed celiac as of March 2010 who is learning to cook and bake gluten free AND please my rather particular family.
Honey From Flinty Rocks is staunchly pro-life, from a Reformed Baptist perspective, and no longer duped by feminism!  I desire to live a life that glorifies God and pray that is reflected in this simple blog.
All content is the sole possession of Honey From Flinty Rocks.  Do not post, copy or use without proper credit given.
Blessings,   ~Aunt Mae (aka ~Mrs. R)