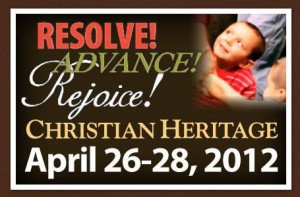 This year's conference is at the end of this week.  Our excitement mounts as the days draw nearer, ever nearer!!
Why do we attend THIS conference above any others offered in our state?
Let me count the ways!
1) Christian Heritage's conference is the only Christ-centered homeschool conference offered in my area.  When we first started homeschooling in the early 1990's I did attend 'another' big conference in our area… it was the only thing I knew about at the time.  But it's sole focus was on the teaching-mom.  There wasn't a hint of anything that we believed was important.  Anything "Christian" was indicated as so in the brochure… so they could be avoided by the majority attending.  I was starving for the Christian message and sought out those that were specifically Christian!!  'That' conferences biggest draw is the mammoth sized curriculum fair.  But THAT isn't a draw for me, as I am interested in distinctly Christian materials to support the Christian training we supply at home.

2) Christian Heritage's vendor hall is FULL of excellent, Christian materials!  This is by far THE BEST homeschool vendor hall I have ever had the privilege to attend.  I don't have to examine science materials to discover that it is evolutionary based twaddle!  It is a LARGE vendor hall FILLED with materials of substance, quality and Christ.  Lots and lots of choices… so go with a list!!  It can be overwhelming. 

3) Christian Heritage's conference provides encouragement and teaching for me in my God-given roles of helpmeet, keeper-at-home, and instructor/discipler of the next generation, and for The Patriarch in his roles as prophet, priest, protector and provider for our family.   That encouragement keeps us going through the rest of the year and not become weary in well doing.  Neither of us had any of this modeled or taught to us in our childhood years and this excellent teaching helps us to understand and live out our God-given roles.

4) No matter what questions or concerns have cropped up over the previous year, the Christian Heritage conference has answered them from a biblical basis, there was a concern about college, a science question, each year has been something very different.   God is so amazing and gracious to do this for me… every single year!!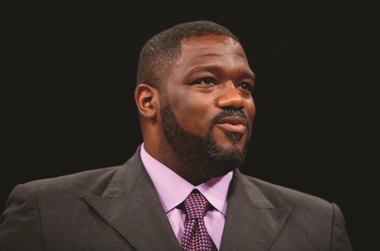 5) The Christian Heritage conference's keynote speakers have encouraged, exhorted and taught us on a wide range of topics.  Keynote speakers in the past have been 2006: Doug Phillips, Steve Maxwell, Dr. Brian Ray;  2007 Voddie Baucham, James McDonald; 2008 Doug Phillips; 2009Viddie Baucham; 2010 Ken Ham, Kevin Swanson; and in 2011 Kevin Swanson, Geoffrey Botkin.  This year we are privileged to hear Voddie Baucham speak again.  The Patriarch was so blessed by him in 2007 & 2009 that he has been looking very forward to his return this year!
6) The entire Christian Heritage conference is very well organized starting with the greeters at the door, the registration table, information booth, speakers, vendor hall, and including the CD & DVD ordering.  And they get better and better every year!  No matter how big the conference is, or how busy anyone is, there is a sweetness and courtesy not usually found out in town today that is like a cup of cold water to a thirsty man.
7) The DVDs & CDs.  Yes, I know we could just order them online and skip the conference… but I can not imagine missing this conference!!!  The CDs & DVDs are also offered at a special conference price… so it's a WIN, WIN!!  The CDs & DVDs are a way for me to have all the workshops I wanted, but couldn't physically attend!  There is only one of me!!  We get to watch the excellent messages again as a family and  listen to various teaching as we drive in the van or sit at home.  I don't know about you, but as we watch or listen to these presentations again many times I hear something I missed in the original hearing.  The topics are broad ranging and are timeless treasures!
New this year! The CHRISTIAN HERITAGE
"SEASONS OF DISCIPLESHIP" COLLECTION …
Audio Messages to Fit Your Family's Needs

WHAT ARE THEY & WHERE DO I GET THEM?
This COLLECTION contains 11 sets of past CH Conference messages—selected for their timeless Biblical and practical encouragement for equipping your household:
Tailored to meet you where you're at as you go through the seasons of parenting and as your family's requirements change

10 CD's per Set—assembled by topic to suit the many needs of homeschooling families
Available at Special Conference Prices at the CHRISTIAN HERITAGE CONFERENCE Booth (#24-25)—along with the popular Father & Son Retreat and Mother & Daughter Teas CD's
After the Conference, available via our CH Online Store at

ChristianHeritageOnline.org
OTHER "SEASONS OF DISCIPLESHIP" SETS:
(Click Here to see all Speakers and Sessions in each Set)
~ SET 1 – Christian Heritage Conference Favorites
~ SET 2 – Godly Parenting & Family Relationships
~ SET 3 – Helpful Homeschooling Nuts & Bolts
~ SET 4 – Getting a Great Start
~ SET 5 – Keep Going – You CAN Do It!
~ SET 6 – Moving Forward into Adulthood
~ SET 7 – Conquering Learning Challenges
~ SET 8 – Discipleship Wisdom for Moms
~ SET 9 – Discipleship Wisdom for Dads
~ SET 10 – Encouragement for Sons (& Their Parents)
~ SET 11 – Encouragement for Daughters (& Their Parents)
Great for Personal, Family, and Group Bible study ~
and to Give as Gifts for Any Occasion!
8) We get to see friends we don't see on a regular basis and meet new friends!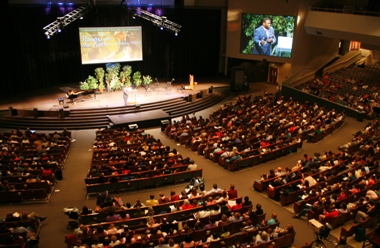 9) During break times, the young men have a football game on the lawn outside the main doors.  There are fellas wearing suits, jeans and everything in between.  It is a great way to burn off some of the pent up energy in young men!  I find it encouraging that the older young men do not shun the younger ones, but cheerfully include them in the game.  That is a rarity these days!
If you are in the neighborhood, please join us April 26th – 28th, 2012 for the
7th Annual Christian Heritage
Family Discipleship & Homeschooling Conference!!
Registration is available at the door.  We would love to see you there!! 

Blessings, ~Aunt Mae (aka ~Mrs. R)

Other posts you may be interested in:
Daily Renewal – When Mothering Feels Too Hard
This post also linked here: