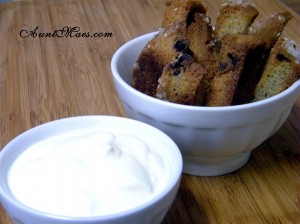 We spent Thanksgiving with dear friends on the peninsula.  On our way home we stopped at Costco.  I don't think I have been to Costco right after Thanksgiving… ever!  I didn't even know they had a cookbook!!  Well I got this year's and it has some very interesting ideas…
This is actually a very good marketing idea.  The cookbook has recipes that feature foods Costco sells.
A few years ago, my Costco carried some *excellent* gluten free bread in their freezer case.  And it was at an excellent price as well!  Alas.  The *market* just isn't big enough for Costco to justify space in their freezer.  So that product was pulled.  It was a good seller, just not *big* enough for them.
Sigh.
Ah… where was I…?  Oh yes.  Costco's cookbook.
They had muffin fries.
Yes, you heard me, Muffin Fries.
Uh… no… not deep fried like Twinkies.  Ick.  Besides… you heard the newest scientific discovery?  The Mayan calendar didn't predict the end of the world…
…it was discovered to predict… the end of Twinkies.  lol
Of course the Costco Cookbook recipe uses Costco's muffins, which are not gluten free.  And since I was asked to come up with holiday and entertaining ideas using a package of Udi's gluten free products… I wanted to try these muffins fries.
My box didn't include Udi's Blueberry Muffins.  I have had them in the past and they are very good.  Well, I have yet to try anything Udi's that wasn't good.  But it can be expensive.  Which is why I have mostly turned to making homemade.  For this though, I went out and purchased my own package of the Udi's Blueberry Muffins.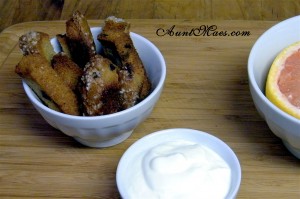 With the holidays at hand I was envisioning family visits… and the host dreading being able to come up with *something edible* for the gluten free one in the mix.  And the *gluten free one* being made to feel as though they were an extra burden… needing special foods.
Udi's & Aunt Mae to the rescue!!
Do you have a special someone visiting who cannot eat gluten?  Fix this treat for breakfast and you will be a hero!  Not only is it EASY to do, but these are so yummy!
Blueberry Muffin Fries – GF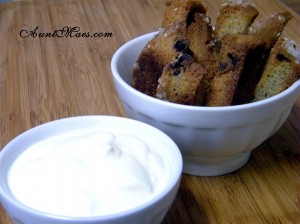 an GF adaptation of a Costco 2012 Cookbook recipe
Ingredients
1 package Udi's GF Blueberry Muffins
3 – 4 TB butter
sea salt, optional
plain yogurt
honey to taste
Instructions
Preheat oven to 350 degrees. Grease cookie sheet or use greased parchment paper. I just greased my cookie sheet.
Melt butter, set aside.
While oven is heating, slice each muffin into ½ inch slices. I got 6 slices from each muffin.
Place ½ the slices cut end down and slice in half just under the muffin's top. Arrange the muffin sticks on your cookie sheet and brush with the melted butter. Sprinkle lightly with sea salt. Place in oven and bake for 20 – 30 minutes until lightly browned.
While the muffins are baking, mix honey to taste into your plain yogurt.
Arrange muffin fries in a small bowl with a bowl of yogurt on the side. Dip your Muffin Fries into the yogurt to eat.

YUMMY!
Arrow gave this one the *thumbs up* approval!
I would make these again.  I am going to try using my *oops I baked it too long and it is dry [cough], very dry*, banana bread and dip it into a cinnamon or maple yogurt.  I hate wasting!

Merry Christmas!
Blessings, ~Aunt Mae